Sponsor Cloud Native London
You're interested in sponsoring the ​Cloud Native London meetup​? Awesome! It's a great way to support the Kubernetes and cloud native community, and increase awareness.
Each event has 200-300 attendees across physical events or YouTube + Twitch livestreams.
A 30 second introduction at the beginning of the event by your representative (or Cheryl or other host.)
Your logo and company information in emails to group members, blog posts and tweets
You are welcome to send a speaker, but please no sales pitches. Due to high demand, the next available speaking slot is mid-2021.
Sponsors who commit for at least twelve months are listed on https://www.meetup.com/Cloud-Native-London​.
Each sponsor contributes £600 (no VAT) per event.
Frequently asked questions
Who is the audience at Cloud Native London?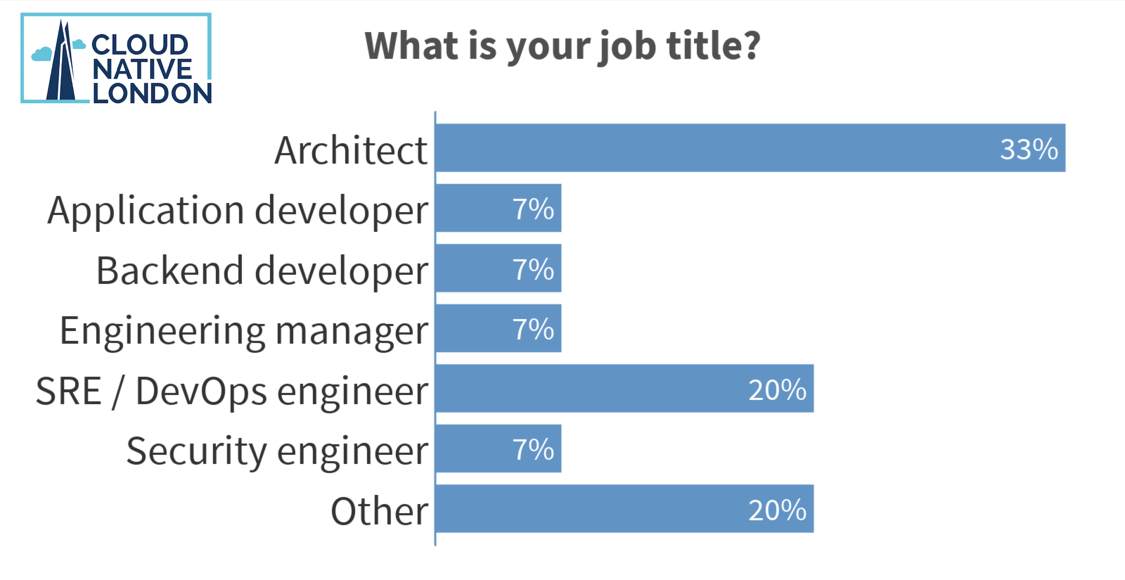 Can we host an event at our office?
Our events are at the same venue each month, so we aren't looking for venue hosts for now.
Can we run an event on a specific day?
We plan events 6-12 months ahead, so unfortunately we can't add extra events to the schedule.
Are we listed as the pizza / beer sponsor?
As pizza and beer are more than any individual contribution, we order catering ourselves and thank all sponsors equally.
Can we bring swag and a banner? (N/A for virtual events)
You can display a banner inside the room, just bring it on the evening. Please ship swag to this address a week in advance and let us know when to expect arrival:
Sainsbury's Courier Desk
c/o Simon Perry, Cloud Native London
60 Fetter Lane
Holborn
London EC4A 1AA
If you need a table on the evening, email Simon.Perry2@sainsburys.co.uk.
Can we sponsor as a recruitment agency?
We work with one recruitment agency at a time, so we won't add more until further notice.
Can we share our event with your group?
Promote your events and offers
What if I have further questions?
Contact organisers@cloudnativelon.com.