October 6, 2021 London, UK
Cloud Native London October 2021: Speakers from CloudBolt and AWS
---
Two great speakers from CloudBolt and AWS joined us at our October Cloud Native London virtual meetup, with attendees via Zoom, Rambly, and the YouTube/Twitch livestreams.
We are immensely grateful to Humio](https://humio.com/), Palo Alto Networks, CircleCI, and Netapp for your generous support and sponsorship.
Overview
Kicking off our evening was Rick Kilcoyne from CloudBolt with his Top 5 IT Challenges That You Should Be Prepared For (starting at 26:16). His takeaways mentioned:
High complexity, high cognitive loads – visibility is king
Cloud costs – you can't manage what you can't automate
CI/CD infra reliability – test-the-testers
Everything-as-a-service – consumable » configurable
Integrations – first-class-citizen and org ownership
Then Nicola Pietroluongo from AWS wrapped up our evening with a discussion on AWS App Runner: Production web applications at scale made easy for developers (starting at 53:21). He explained that:
You don't need knowledge about server configuration, networking, load balancing, or deployment pipelines.
App Runner seamlessly scales up resources in response to your traffic.
With App Runner you can meet your infrastructure and compliance requirements while staying completely focused on your application since it is fully-managed.
And of course, a group photo from Rambly!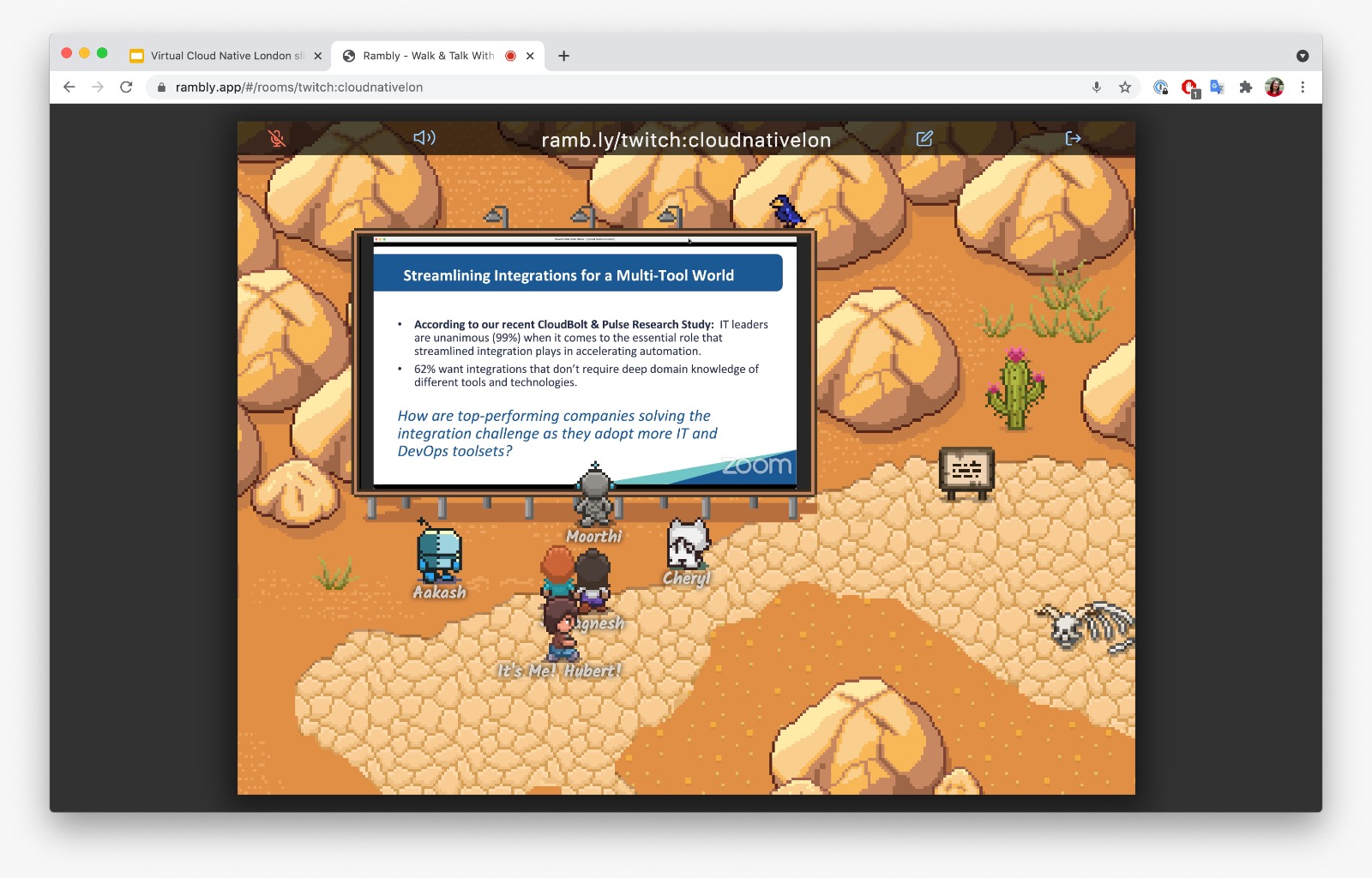 Cloud Native London November
Our next meetup will be Wednesday 3rd November, when we'll be joined by speakers from authorizon, Humio, and Ververica. RSVP and save the date now!
Stay safe, stay healthy, and have a great month!
Cheryl (@oicheryl)
---